Hay Sunners! kali ini kita akan membahas penggunaan kata sifat yang berbentuk participle. Ada dua bentuk participle adjective yaitu present participle dan past participle. Present participle ketika verb nya diakhiri oleh -ing. Kata sifat ini mempunyai arti yang melakukan. Berbeda dengan past participle yang merupakan kata kerja bentuk ketiga yang fungsinya sebagai kata sifat dikenai tindakan. Sesuai dengan judulnya participle yang akan kita bahas lebih dalam yaitu past participle adjective.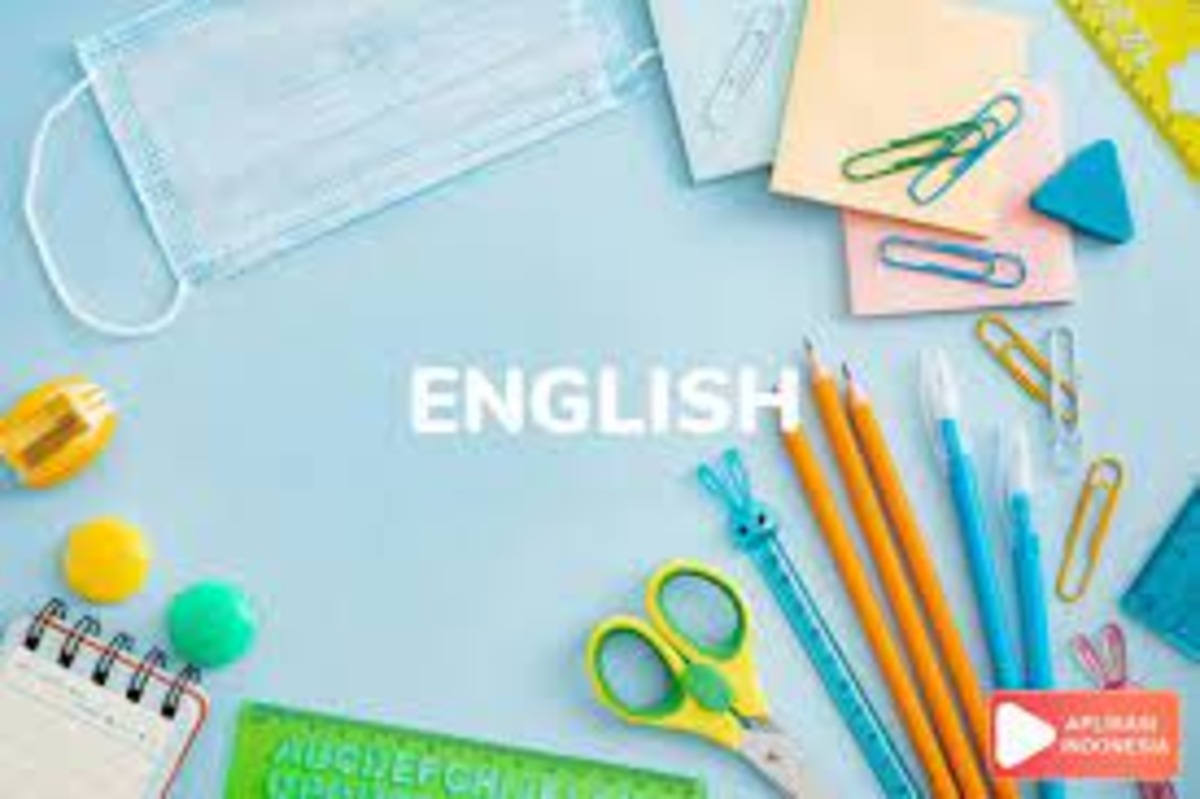 www.goggle.com
Past participle dalam Kalimat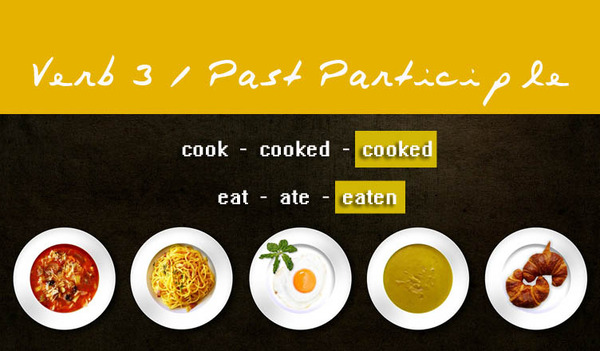 Bentuk present participle yaitu verb 3, penggunaan dalam kalimatnya bisa kita lihat melalui contoh berikut.
| | | |
| --- | --- | --- |
| Verb 1 | Verb 2 | Verb 3 |
| break | broke | broken |
| embarass | embarrassed | embarrassed |
| frighten | frightened | frightened |
| bore | bored | bored |
| Bake | Baked | Baked |
| interest | interested | interested |
| shock | schocked | shocked |
| suprise | surprised | surprised |
| depress | depressed | depressed |
I won't buy a broken laptop. (Saya tidak akan membeli laptop rusak)
I see the embarrassed girl covering her face with her hands because she has just fallen into the fountain. (Saya melihat gadis yg sedang malu menutupi mukanya dengan tangannya karena baru saja jatuh ke kolam air mancur)
The frightened children ran into their house.(Anak-anak yang ketakutan lari menuju rumah mereka)
Jane is a bored student.(Jane gadis yang bosan)
I eat a baked cake enthusiastically since the tasty is delicious.(Saya makan kue yang dipanggang secara lahap karena rasanya yang enak)
I'm interested in the exploration of space.(saya tertarik mengeksplorasi luar angkasa)
The excited girl is running to his father because of a gift. (Gadis antusias itu berlari menuju ayahnya karena sebuah hadiah)
a shocked face was clearly seen from Mr. Rudian's after he read newspaper this morning.(Muka yang terkejut ditunjukan secara jelas dari mukanya Mr Rudia setelah membaca berita pagi ini)
Julia was depressed after some people laughed at her. (Julia tertekan karena orang orang menertawainya)
Penggunaan Get+past participle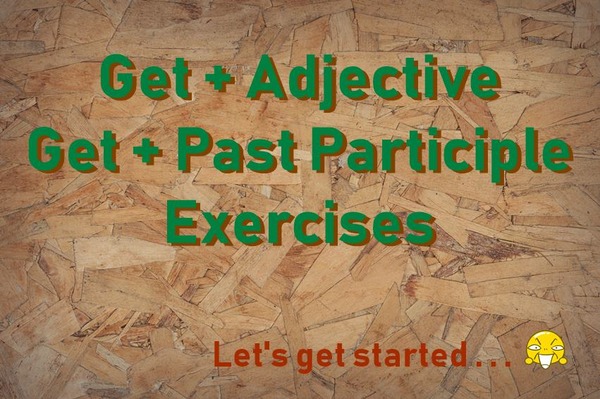 Dalam penggunaan di kalimat ada beberapa past participle yang berpasangan dengan get. Past participle setelah get adalah kata sifat, yang berfungsi menerangkan subject kalimat.
| | | |
| --- | --- | --- |
| get acquainted | get drunk | get involved |
| get arrested | get engaged | get killed |
| get bored | get excited | get lost |
| get confused | get finished | get married |
| get crowded | get frightened | get scared |
| get divorced | get hurt | get sunburned |
| get done | get interested | get tired |
| get dressed | get invited | get worried |
Contoh penggunaan past participle tersebut dalam kalimat yaitu sebagai berikut:
When I stayed out in the sun too long yesterday, I got sunburned. (Ketika saya berada dibawa sinar matahari terlalu lama, kulit saya akan terbakar)
If you are sick, stay home and take care of yourself. You won't get recovered if you don't take care of yourself.(Jika kamu sakit, tetaplah di rumah dan jaga dirimu. Kamu tidak akan pulih jika kamu tidak merawa dirimu sendiri)
Jane and Greg are engaged. They are going to get married a year from now. (Jane dan Greg bertunangan. Mereka akan menikah setahun dari sekarang)
Put these socks back in the dryer. They didn't get dried the first time. (taruh kembali kaos kaki in ke mesin pengering. Kaos kakinya tidak akan kering untuk pertama kalinya)
Let's stop working for a while. I'm getting tired. I need to rest. (Ayo berhenti bekerja sementara waktu. Aku mulai capek. Aku perlu istirahat)
Sue has to vacate her apartment next week, and she hasn't found a new place to live. She's getting worried.(Sue harus mengosongkan apartemennya minggu depan, dan dia belum menemukan tempat baru untuk tinggal. Dia mulai khawatir)
Toshiro was in a terrible car wreck and almost get killed. He's lucky to be alive. (Toshiro mengalami kecelakan mobil yang parah dan hampir tewas)
We were in a city without a map. It was easy for us to get lost. We had to ask a shopkeeper how to get back to our hotel.(Kami berada di tempat asing tanpa peta waktu itu. Mudah bagi kami untuk tersesat. Kami harus bertanya ke penjaga toko bagaimana cara kembali ke hotel kami)
Did you get involved when your team won the game? Did you clap and yell when they won? (Apa kamu terlibat ketika temanmu memenangkan permainan itu? apa kamu bertepuk tangan dan berteriak ketika mereka menang?)
Good restaurants get crowded around dinner time. It's hard to find a seat because there are so many people. (Restauran yang bagus mulai padat disekitar waktu makan malam)
I left when Ellen and Joe began to argue. I never get involved in other people's quarrels.(aku pergi ketika Ellen dan Joe mulai berargumen. Aku tidak pernah terlibat ke dalam orang-orang yang berselisih)
Untuk informasi lengkap seputar pembelajaran Bahasa Inggris, tips dan trik, hingga Test Preparation Program eksklusif, kamu bisa temukan informasinya disini. SUN English merupakan ahli dalam bidang persiapan tes internasional yang mengembangkan berbagai program dalam membantu meningkatkan kemampuan berbahasa Inggris-mu. Kami merupakan bagian dari SUN Education Group yang bekerjasama dengan institusi top dunia luar negeri dalam menyajikan dukungan studi terbaik ke luar negeri. Persiapan Bahasa Inggris bisa kamu konsultasikan lebih lanjut dengan menghubungi SUN English melalui WhatsApp!