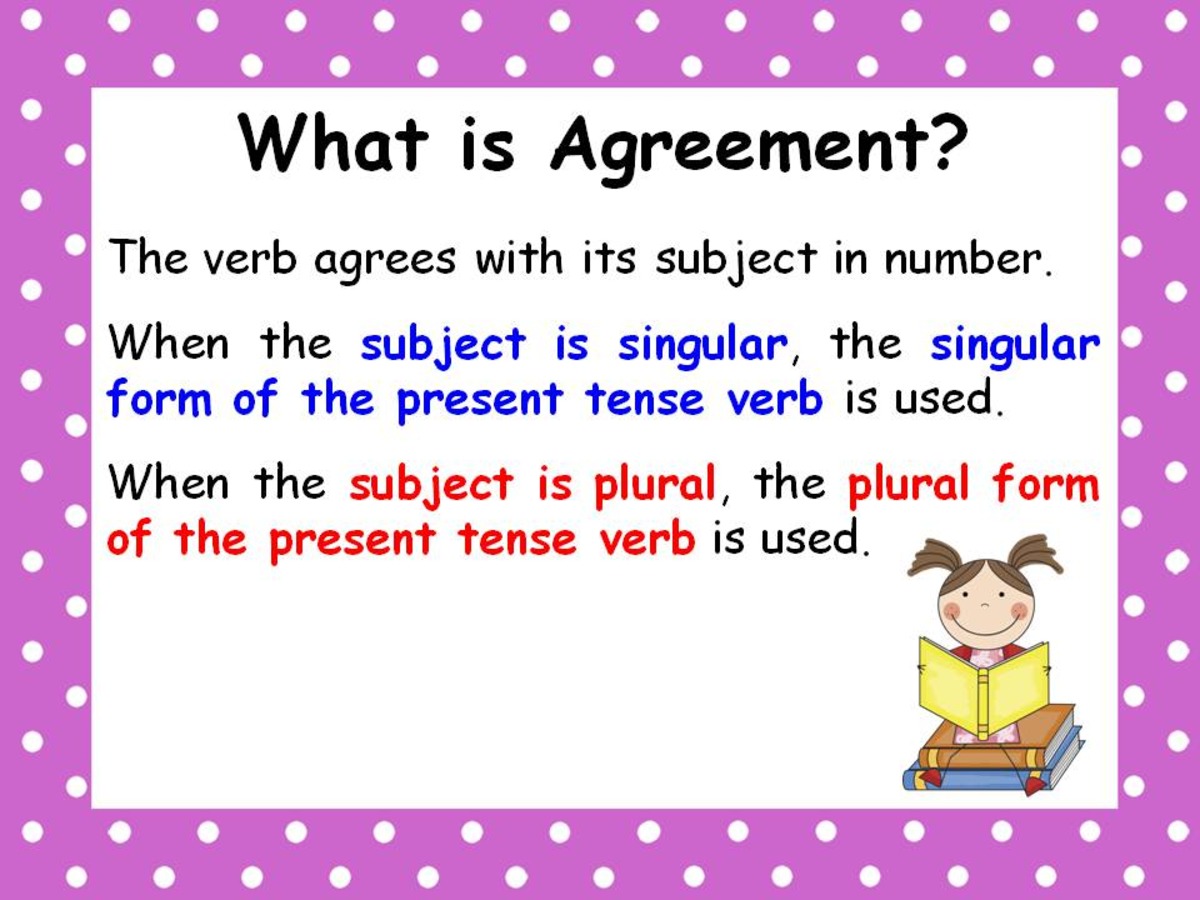 Hay Sunners! kali ini pembahasan kita mengenai subject and verb agreemenent. Nah mungkin masih ada yang bingung maksud subject and verb agreement itu apa sih!. Dalam membuat kalimat kita perlu mengetahui subject dan verb yang tepat agar sesuai dengan grammar yang benar. Ada 8 peraturan mengenai subject and verb agreement. Berikut penjelasannya.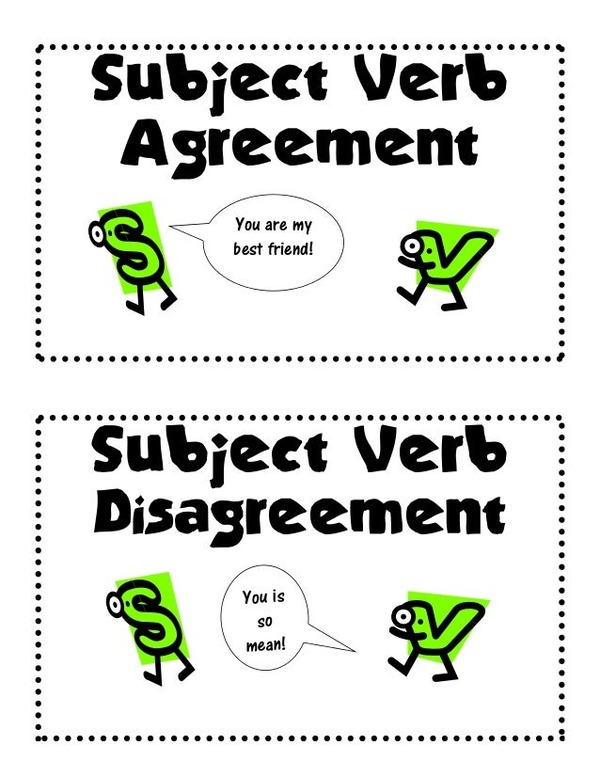 1. Kata bantu do dalam negatif sentence
Ketika membuat kalimat negatif, hanya kata bantu yang kita sesuaikan dengan subject. Seperti kalimat berikut:
(-) I do not have breakfast before going to school.
(-) She does not go to bed earlier on weekend.
(-) They do not like to speak loudly in a classroom.
(-) Sam does not wash his shoes every week.
dari contoh di atas kita bisa lihat hanya penggunaan do yang disesuaikan berdasarkan subjectnya. Jika subjectnya I/you/they/we penggunaan do tidak berubah. Tetapi jika subjectnya She/he/it, kata ketiga tunggal, maka do berubah menjadi does.
2. Kata bantu do dalam kalimat tanya
Sama halnya dengan penggunaan do di kalimat negatif, di kalimat tanya pun do menyesuaikan subjectnya. Contohnya berikut ini:
Do you want to borrow my English book?
Does she visit her grandmother once a week?
Do they invite you in their trip?
Does Sonia like to call you every night?
kita bisa lihat dari kalimat-kalimat tersebut hanya penggunaan do yang berubah yang mana disesuaikan dengan subjectnya. Dalam hal ini tidak ada perubahan bentuk terhadap penggunaan verb nya.
3. Multiple subjects karena penggunaan conjunctions
Ketika subjectnya terdiri dari lebih dari satu yang dihubungkan oleh kata penghubung and maka subject tersebut berbentuk plural. Sehingga, verb yang kita gunakan yaitu plural verb.
Sonia and I go to school together.
My father and his friends still enjoy hanging out together.
Tom and Gilbert study IELTS in SUN.
Nathan and Ari are into spending time by playing online game.
4. Penggunaan every dan each
Every dan each adalah bentuk singular subject yang diikuti oleh singular noun, untuk itu kita menggunakan singular verb. Jadi walawpun subject yang digunakan lebih dari satu, namun ketika menggunakan every atau each tetap dianggap singular subject. Seperti contoh berikut:
Every man, woman, and child needs love.
Each book and magazine is listed in the card catalog
Every student in my class is nice.
Each book which I buy is stored well.
5. Bentuk gerund atau verb-ing
Gerund yang kita gunakan sebagai sebagai subject memerlukan singular verb.
Growing flowers is her hobby.
Making pies and cakes is Mrs. Rob specialty.
Is having the responsibility for taking care of pets good for young children?
Getting to know students from all over the world is one of the best parts of my job.
6. Expressions of Quantity
Expressions of quantity merupakan kata yang kita gunakan untuk menyatakan banyak seperti some of, one of, each of, every one of, none of, the number of, dan a number of. Berikut penjelasannya:
Singular verb
Plural Verb
a). Some of the book is good
c). A lot of the equipment is new.
e). Two-thirds of the money is mine.
b). Some of the books are good.
d). A lot of my friends are here.
f). Two-thirds of the pennies are mine.
dari contoh kalimat-kalimat di samping, bisa kita lihat penggunaan Some of plus singular noun maka verb yang mengikuti adalah singular verb. Sedangkan Some of plus plural noun maka verb yang mengikuti adalah plural verb. Begitu juga dengan penggunaan A lot of dan two thirds of.
g). One of my friends is here.
h). Each of my friends is here
i). Every one of my friends is here.
Pengecualian untuk one of, each of, dan every one of memakai singular verbs
j). None of the boys is here.
k). None of the boys are here. (informal)
None of merupakan bentuk singular yang formal di Bahasa inggris tetapi plural verb sering digunakan di bentuk writing yang informal.
l). The number of students in the class is fifteen.
m). A number of students were late for class.
penggunaan the number merupakann bentuk subject singular, sedangkan a number of sama dengan a lot of diikuti plural noun dan plural verb
7. There + be
Penggunaan there+ be tergantung dengan subject yang mengikuti. Kita menggunakan there+singular verb, jia subject yang mengikuti berbentuk singular. Begitu juga dengan there+plural verb, kita gunakan plural verb ketika plural subject yang mengikuti. Seperti contoh berikut:
A. There are twenty students in my class.
B. There is a fly in the room.
C. there are seven continents.
8. Some irregularities
Berikut merupakan beberapa singular subject yang harus menggunakan singular verb.
Singular verb
a). The United States is big
b). The Philippines consists of more than 7000 islands
c). The United Nations has its headquarters in New York city.
d). Sears is a department stire.
Terkadang kata yang diakhiri oleh s merupakan bentuk plural noun. Namun tidak demikian dengan kata-kata yang ada dikalimat-kalimat di samping.
e). The news is interesting.
News bentuk singular noun
f).Mathematics is easy for her. Physics is easy for her too.
Nama mata pelajaran yang diakhiri oleh -ics memakai singular verb.
g). Diabetes is an illness.
Beberapa nama penyakit yang diakhiri oleh s juga merupakan singular subject dan memerlukan singular verb, seperti diabetes, measles, mumps, rabies, rickets, shingles
h). Eight hours of sleep is enough.
i). Ten dollars is too much to pay.
j). Five thousand miles is too far to travel.
Expresi waktu, uang, dan jarak juga memerlukan singular verb
k). Two and two is four.
l). five times five is twenty-five
bentuk aritmatika memerlukan singular verb
Plural verb
m). Those people are from Canada.
n). The police have been called.
o). Cattle are domestic animals.
People, police dan cattle tidak diakhiri oleh s, tetapi merupakan plural noun dan memakai plural verb.
Singular verb
Plural verb
p). English is spoken in many countries.
r). Chinese is his native language.
q). The English drink tea.
s). The Chinese have an interesting history.
p). English berarti bahasa, q): The English berarti orang-orang Inggris makanya berbentuk plural noun dan memerlukan plural verb.
t) The poor have many problems.
u). The rich get richer.
beberapa adjective bisa didahului oleh The dan digunakan sebagai plural noun tanpa ditambahkan s yan gberarti merujuk ke orang orang yang punya qualitas tersebut. COntoh laiinya yaitu the young, the elderly, the living, the dead, the blind, the deaf dan the disabled.
Untuk informasi lengkap seputar pembelajaran Bahasa Inggris, tips dan trik, hingga Test Preparation Program eksklusif, kamu bisa temukan informasinya disini. SUN English merupakan ahli dalam bidang persiapan tes internasional yang mengembangkan berbagai program dalam membantu meningkatkan kemampuan berbahasa Inggris-mu. Kami merupakan bagian dari SUN Education Group yang bekerjasama dengan institusi top dunia luar negeri dalam menyajikan dukungan studi terbaik ke luar negeri. Persiapan Bahasa Inggris bisa kamu konsultasikan lebih lanjut dengan menghubungi SUN English melalui WhatsApp!