Dalam Bahasa Inggris, kita tidak hanya mempelajari Grammar atau Vocabulary. Banyak hal-hal kecil yang harus juga dipelajari untuk menguasai Bahasa Inggris. Salah satu halnya adalah kata kerja transitif dan intransitif.
Sesuai dengan namanya, kata kerja transitif dan intransitif merupakan kata kerja yang dapat digunakan didalam satu kalimat. Kata kerja merupakan kata yang digunakan untuk mendeskripsikan suatu kegiatan yang dilakukan. Pada dasarnya, kata kerja ke bagi dalam tiga jenis, yaitu action verbs (kata kerja aksi), linking verbs (kata kerja penghubung), dan helping verbs (kata kerja bantu). Nah, kata kerja transitif dan intransitif ini merupakan kata kerja bantu.
Apa itu Kata Kerja Transitif?
Kata kerja transitif adalah kata kerja yang memerlukan objek atau pelengkap untuk melengkapi kalimatnya. Dengan kata lain, kalimat yang dibuat tidak akan sempurna apabila kalimat tersebut tidak memiliki objek yang menyertai kata kerja transitif tersebut.
Berikut contoh kata kerja transitif serta kalimatnya:
Baca Juga : Apa itu Kata Kerja Keterangan Waktu?
bring
Please bring me a glass of water.
buy
Do not buy hamburgers at that restaurant.
cost
My coat cost a lot of money.
get
My children get good grades in school.
give
Our family gives gifts at Christmas.
leave
I leave home at 8:00 in the morning.
lend
Could you please lend me five dollars?
make
Did you make coffee this morning?
offer
My boss offered me a great new job.
owe
I owe you ten dollars.
pass
All the students passed the test.
pay
Don't forget to pay the phone bill.
play
Jennifer loves playing the piano.
promise
She promised me she would come to the party.
read
They read the newspaper every day.
refuse
The customs officers refused to let me enter the country.
send
My girlfriend sends me an e-mail message every day.
show
My neighbour showed me her garden yesterday.
sing
Muriel sings songs at karaoke every Sunday night.
take
Travellers take planes or trains to their destinations.
teach
Our parents teach us to be kind.
tell
The author tells a good story.
write
Tommy writes short stories about the South.
Apa itu Kata Kerja Intransitif?
Kata kerja intansitif adalah kata kerja yang tidak membutuhkan objek dalam kalimatnya. Namun, meski tanpa diikuti suatu objek dibelakangnya, kalimat tersebut masih mempunya makna.
Berikut contoh kata kerja intransitive dalam sebuah kalimat:
It is raining.
When he finished the race, he barfed.
Water evaporates when it's hot.
He's been singing all day.
You've grown since I last saw you.
They run.
He died.
She slept.
It snows.
Selain contoh di atas, berikut daftar kata kerja intransitif yang biasa digunakan:
Agree
Appear
Arrive
Become
Belong
Collapse
Consist
Cost
Cough
Cry
Depend
Die
Disappear
Emerge
Exist
Explode
Fade
Fall
Fast
Float
Fly
Gallop
Go
Grow
Happen
Have
Hiccup / hic-cough
Inquire
Jump
Kneel
Knock (sound)
Last (endure)
Laugh
Lead
Lean
Leap
Learn
Left
Lie (recline or tell an untruth)
Limp
Listen
Live
Look
March
Mourn
Move
Occur
Panic
Party
Pause
Peep
Pose
Pounce
Pout
Pray
Preen
Read
Recline
Relax
Relent
Remain
Respond
Result
Revolt
Rise
Roll
Run
Rush
Sail
Scream
Shake
Shout
Sigh
Sit
Skip
Sleep
Slide
Smell
Smile
Snarl
Sneeze
Soak
Spin
Spit
Sprint
Squeak
Stagger
Stand
Stay
Swim
Swing
Twist
Vanish
Vomit
Wade
Wait
Wake
Walk
Wander
Wave
Whirl
Wiggle
Work
Yell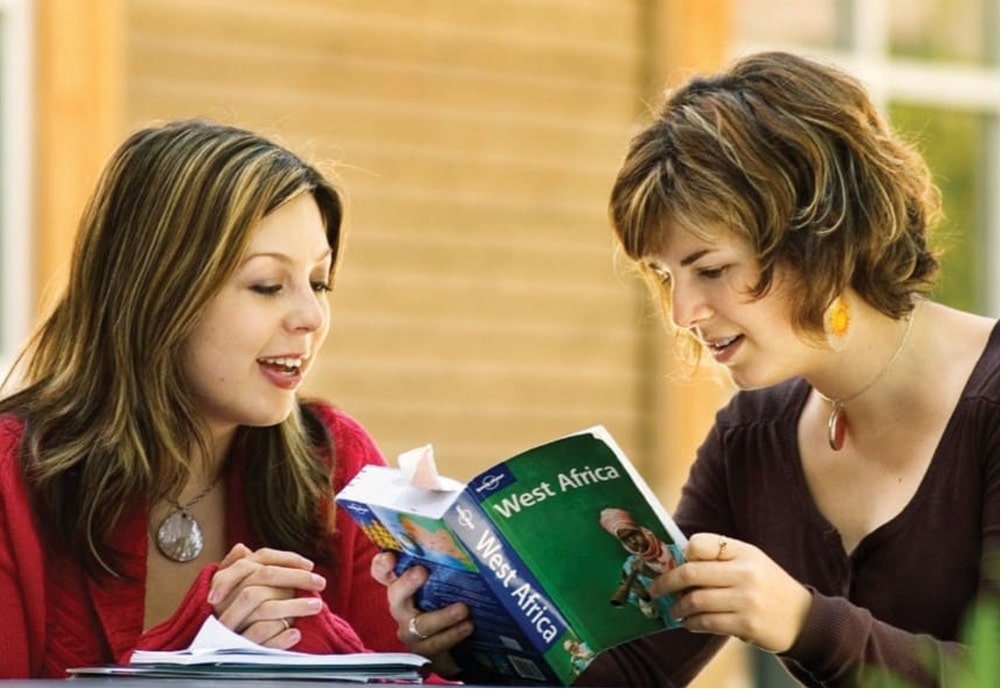 Setelah memahami perbedaan kata kerja transitif dan intransitif, sekarang kamu pasti juga mengerti betapa pentingnya menguasai hal-hal kecil dalam Bahasa Inggris. Pastinya, kamu bisa lebih banyak belajar dengan latihan-latihan soal. Di SUN English, kamu bisa mendapatkan banyak soal latihan yang bisa membantu kamu meningkatkan pengetahuan Bahasa Inggris kamu, lho!
Jika kamu membutuhkan konsultasi lebih lanjut unutk kebutuhan Bahasa Inggrismu, yuk konsultasi Gratis melalui WA SUN English 081-211-86 82 83